Researchers discover new aquifer below Greenland Ice Sheet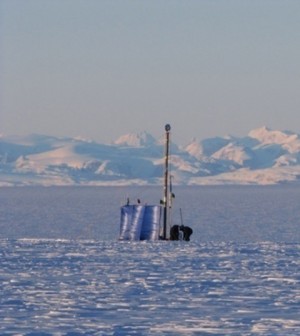 Drill rig used to extract firn cores from within the Greenland firn aquifer. (Credit: Evan Burgess)
An international team of researchers has discovered a new aquifer beneath the Greenland Ice Sheet, redOrbit reported.
Hidden between layers of semi-permanent ice and snow known as the "firn", the aquifer covers 27,000 square miles — an area larger than the state of West Virginia — and rests dozens of feet below the surface. Researchers stumbled upon the reservoir while drilling for ice samples in 2011.
The Greenland Ice Sheet is the primary contributor to global sea level rise, according to University of Utah geography professor Rick Forster. By examining the aquifer's water capacity on a yearly basis, Forster and his colleagues hope to gain a better understanding of the relationship between meltwater and sea level.
Image: Drill rig used to extract firn cores from within the Greenland firn aquifer. (Credit: Evan Burgess)