Researchers drill into Antarctic ice sheet to study subglacial life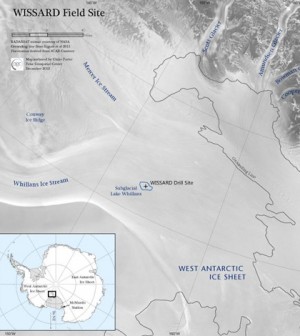 Researchers at Montana State University and the National Science Foundation have drilled through a half mile of Antarctic ice in an effort to better understand subglacial life, according to a release.
Their target was Lake Whillans, a massive body of water located beneath the West Antarctic Ice Sheet. Sediment and samples were collected from the lake, which are still to be analyzed. They are the first clean, whole samples to ever be collected from a subglacial lake in Antarctica.
The expedition was part of the Whillans Ice Stream Subglacial Access Research Drilling project. It was largely funded by the National Science Foundation, with additional resources provided by NASA, the National Oceanic and Atmospheric Administration and the Gordon and Betty Moore Foundation.
Image: Map of the WISSARD drill site (Credit: WISSARD)