Researchers find better indicators for monitoring blue-green algae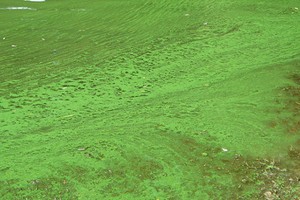 More useful indicators for monitoring blue-green algae – or cyanobacteria – may be available to water authorities following the results of a study that took place within two Canadian water sources.
The findings, published in the Journal of Environmental Monitoring, came from submersible multi-probe monitoring using a YSI 6600 V2-4 data sonde in a reservoir on the Yamaska River and a bay of Lake Champlain. Researchers looked at live phycocyanin and chlorophyll fluorescence, pH, dissolved oxygen, conductivity, temperature and turbidity.
Correlations were found between extracted chlorophyll, phycocyanin and the blue-green algae, as well as turbidity and pH levels. Since the specific readings were found to be related to the formation of cyanobacteria, they can be used as parameters to monitor formations of the algae.
High levels of cyanobacteria have been found to threaten the quality of drinking water sources worldwide.
Image: An outbreak of blue-green algae at Lake Milford (Credit: Tommy Clarkson/US Army Corps of Engineers, via Flickr)