Restoring Mississippi River's natural floodplains unlikely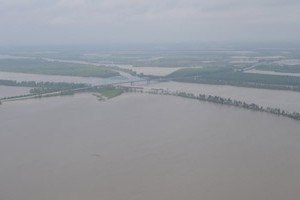 Members of Congress and the agricultural industry have condemned a plan from ecologists to restore natural floodplains to a section of the Mississippi River where levees were destroyed during intense 2011 floods, according to a report from Greenwire.
The plan would require buying up riverside farmland and deliberately not rebuilding levees blown up by the U.S. Army Corps of Engineers during the floods. Supporters say that would allow the river to overflow naturally during high water periods and decrease reliance on faulty flood control structures. Opponents criticized the potential loss of productive farmland, saying the Corps' current system works fine and should be rebuilt.
Read more at Greenwire
Image credit: usace.army.mil