Soil Carbon: Researchers find trees restore more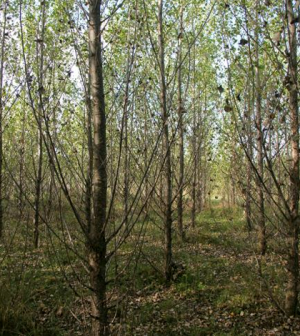 Coal mining towns are familiar with land decimated from carbon removal. Coal is mostly carbon, after all, and miners make sure to remove as much of the black stuff as possible.
Many remediation plans for emptied coal mines and nearby soils include planting grasses, but new research indicates planting trees is just as important to returning carbon to barren soil. By comparing results of 46 studies, researchers at the University of Michigan, U.S. Department of Agriculture's Forest Service and Argonne National Lab found that trees growing in once treeless areas – a process known as reforestation – restore carbon in great quantities.
Increasing carbon levels in soil is also an important tool to fighting climate change. Instead of going into the air as part of a greenhouse gas, carbon is stored in the ground. It's taken in through photosynthesis and transferred to soil through the death and regeneration of roots as trees grow. Any fungi that grow on roots also contribute to soil carbon when they decompose.
"The biggest finding of all – across all these studies, one would expect too much variability," said Luke Nave, research scientist at University of Michigan. "In spite of all that, there is an increase in soil carbon when you establish trees. Prevailing land-use was the biggest driver of variability."
Nave said the team wasn't sure what to expect when it set out to look at the carbon findings. The scope for a study looking at global soil carbon would have been too broad and the differences discerned would have been too subtle.
The focus had to be the U.S., where Nave says data is incomplete. When looking at soil studies conducted around the country, Nave says that parts of the Great Plains need further study to look at reforestation that converts remnant prairies to woodland.
"Soils are not the same. There's a lot more difficulty to knowing with good confidence how soil carbon responds to planting or harvesting," said Nave. "We wanted to plug a knowledge gap for the whole country."
All of the research papers used for analysis had data on soil carbon from tree establishment. Nave and other researchers compared that data to adjacent study sites with and without reforestation. Not every study found an increase, but the overall average of soil carbon across the studies was found to increase.
They found that soil on ground used for industrial purposes improved the most after trees were planted, with the amount of soil carbon doubling within 20 years after reforestation. Tilled land, which Nave says is very easy to spot because it's homogeneous, needs about 40 years to chart an increase in soil carbon.
"If you take Eastern Ohio, parts of Pennsylvania and West Virginia that have this mining activity and plant trees on that land instead of grass, that will increase soil carbon," said Nave. "Formerly cultivated land in the Midwest can increase soil carbon, but it takes longer to see results."
The joint study was funded by the U.S. Department of Agriculture's Forest Service and the National Institute of Food and Agriculture. Its results will be used in a U.S. carbon balance report to the United Nations Framework Convention on Climate Change.