Flood Plain Forests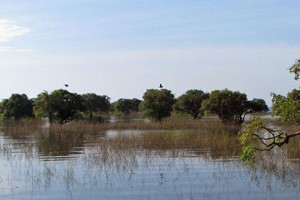 Project Overview
The Lilly ARBOR Project is a floodplain forest restoration experiment along the White River in downtown Indianapolis, Indiana, which has produced effective methods to restore river margins and improve water quality in central Indiana. Over the past five years, environmental research scientists from the Indiana University – Purdue University Indianapolis (IUPUI) Center for Earth and Environmental Science (CEES) – have worked with community partners, university students, and K-12 students and teachers to transform the Lilly ARBOR Project site from mown turf grass into a thriving wildflower, shrub, and sapling forest that is teeming with life.
With an emphasis on community-based research, the ARBOR project has been a test bed for the utilization of new sensor technologies for monitoring environmental systems remotely.
System Description
The ARBOR restoration site includes one bridge mounted and four well installed, YSI multi-parameter sondes along a one-mile stretch of the White River and the Western edge of the IUPUI Campus.
The system utilizes NexSens radio transmission technology for hourly data retrieval and uploads to a WQData.com server hosted within CEES. The ARBOR site is part of an extensive wetland, riverine, and lake site network developed by CEES for the exploration of advanced monitoring technologies to improve our ability to understand water quality and water resource management while learning about complex ecosystems.
The network includes 28 field-deployed sondes, seven with real-time transmission capabilities, and two weather stations throughout central Indiana.