River Flow Profiler | SonTek RiverCAT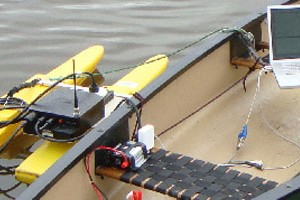 The RiverSurveyor ADP collects vertical profiles of water velocity, water depth, and vessel velocity and sequentially calculates discharge in vertical increments from one bank of a river to the other. This is achieved by sending out acoustic pulses and using the Doppler shift to measure 3-D motion. A RiverCat expands on this by integrating data telemetry with the measurement capabilities of a mini-ADP mounted on an unmanned floating vessel.
The river flow profiler is compact, portable, and easy-to-use, allowing great flexibility in deployment configurations and make the RiverCat especially advantageous for obtaining profiles in remote areas and dangerous waters. The RiverCat is most commonly towed from a bridge or attached to a line held by two people on either side of a river, although a variety of ingenious, site-specific methods have also been employed.
Use of the RiverCat eliminates risks associated with personnel working on boats and greatly reduces the time spent making discharge measurements using conventional current meters. Faster measurements not only improve efficiency but can also increase the accuracy of discharge measurements, especially during periods of rapidly changing stage or flow.
The RiverCat is composed of a transducer housing and a watertight electronics compartment mounted on two-sealed aluminum hulls. Alternatively, the aluminum hulls can be replaced by another type of platform, such as a high stability trimaran, which provides the best all-around performance under a wide range of conditions.
RS-232 radio modems, on both the RiverCat and base station computer, allow continuous two-way communication. While data from the RiverCat is continuously transmitted to the base station computer, those at the base station can control and evaluate the RiverCat's operation and performance using SonTek "RiverSurveyor" windows software.
RiverSurveyor software, an intuitive, user-friendly program designed by hydrologists, ensures that high-quality data is collected in the field. RiverSurveyor provides real-time velocity, discharge, bathymetric data, and quality control feedback within a clear and easy-to-use layout. In addition to RiverSurveyor, ViewADP software can be used after data collection for detailed analysis and post-processing. This detailed analysis and post-processing ability gives the RiverCat/RiverSurveyor a distinct advantage.
Features include:
Real-time velocity profiling, bathymetric data, & discharge measurements from unmanned vessel
Great flexibility in deployment
Quality control feedback, detailed data analysis & post-processing capabilities
Increased efficiency of discharge measurements
For more information about the RiverSurveyor, RiverCat, or other river profiling systems, call a Fondriest Environmental product specialist at 888.426.2151 or email customercare@fondriest.com.