Rocky Mountain dust threatens Colorado River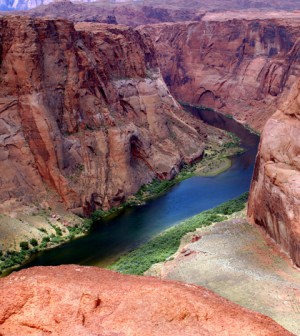 The Colorado River near Page, Arizona (Credit: Adrille, via Wikimedia Commons)
Researchers from the National Oceanic and Atmospheric Administration say that reducing the amount of dust on Rocky Mountain snowpack is key to ensuring the long-term health of the Colorado River, according to a release. Melting snowpack is an important water source for the river.
The team used climate and hydrology models to find the effect dust from the mountains has on Colorado River flow. Their work is published in Hydrology and Earth System Sciences. In prediction models, they found that higher future dust levels will likely cause the snowpack to melt sooner, peaking water levels in the river around three weeks earlier.
In a previous study, the researchers found that snowpack is melting as many as six weeks earlier than it did in the 1800s. That's likely due to human activity, like the disturbance of soils, which magnifies the effects of wind erosion that delivers more dust to the Rockies.
Image: The Colorado River near Page, Arizona (Credit: Adrille, via Wikimedia Commons)