Rutgers' Challenger Glider recovers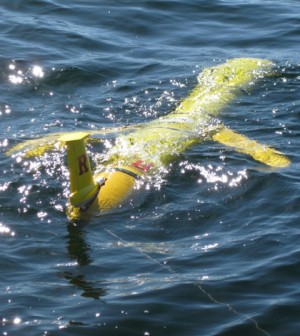 After a break in communication and struggling to navigate through the open ocean, the Rutgers Challenger Glider is back on track and operational, according to the Challenger Mission blog.
The Rutgers team tracked Challenger to St. Helena, a small volcanic island in English waters off the west coast of Africa. The researchers found current approximations factored into navigation algorithms were likely being skewed by increased drag from biofouling.
They managed to find someone on St. Helena island who traveled out to find the glider. Once recovered from the ocean, Challenger was cleaned of heavy biofouling which had compromised navigation performance.
It is now back in the water traveling to its next scheduled pit stop in Ascension Island, northwest of St. Helena.
Rutgers' second glider Silbo is unable to control movement but caught a ride in the North Atlantic Gyre where it is collecting data.
Click here to see the current status of the gliders.
Image: The Rutgers glider shortly after deployment near South Africa (Credit: Rutgers/I-COOL)