San Joaquin River could lose salmon managment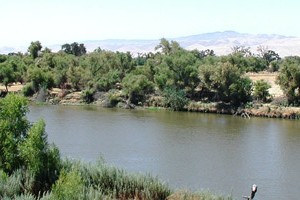 A bill in Congress would overhaul the management of the San Joaquin River, scrapping a salmon restoration plan and making more water available for farmers, according to a report from the Fresno Bee.
In place of the salmon plan, the bill promotes managing the river for warmer water species, including trout and Sacramento sucker. Supporters say this plan would be cheaper and more fruitful as cold-loving salmon are unlikely to survive so far south in a warming climate. Opponents say the San Joaquin will stay cold enough for salmon and could serve as a safe haven for the species.
In addition to political opposition, the bill may face legal hurdles as it aims to overturn elements of a previous court-approved settlement.
Read more at the Fresno Bee
Image credit: USGS California Water Science Center