Satellite data gap looms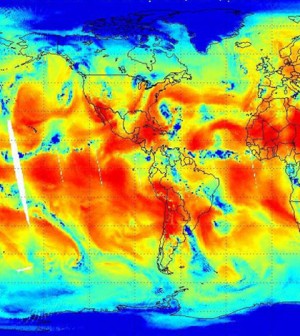 National Geographic has reported the recent findings of a U.S. Government Accountability Office report that indicates that U.S. weather-monitoring satellites will break down before their replacements are ready.
Gaps in satellite data could begin as early as 2014 and last up to 53 months because of a disjointed government replacement program marred by ballooning budgets, poor management and political jousting.
Polar-orbiting satellites are essential instruments for weather forecasts and warnings for extreme events such as hurricanes, storm surges and floods. Without a full array of replacement satellites in orbit, essential information could be unavailable in helping to protect life and property.
The government is currently looking into various plans to attempt to bridge the information gap.
Image: Satellite image measuring atmospheric water vapor (Credit: NASA/NOAA)