Scale model of Arctic Ocean to ease sea ice, atmospheric studies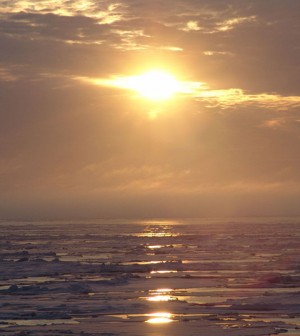 Arctic Ocean (Credit: NOAA, via Wikimedia Commons)
A scientist at Britain's University of East Anglia has received a $2.7 million grant from the European Research council to build a scale-model of the Arctic Ocean, according to Scientific American.
The model will be used to study the interaction between sea ice and atmospheric conditions. It will be eight cubic meters and mimic the arctic region's natural topography and existing sea ice.
Unlike ice that forms on freshwater, sea ice contains large amounts of salt. Some of those salts are released into the atmosphere when the ice thaws. Researchers long ago found that this leads to destruction of ground-level ozone, but they've yet to determine why. The model might change that.
Image: Arctic Ocean (Credit: NOAA, via Wikimedia Commons)