Scientists explore New Zealand sea mounts in human-operated submersible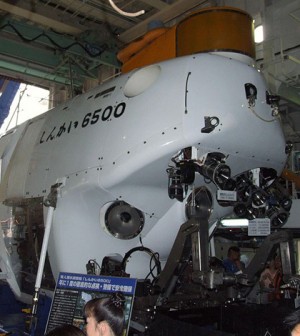 The Shinkai 6500 submersible (Credit: toshinori baba, via Wikimedia Commons)
Scientists from Japan and New Zealand investigated the sea floor off the coast of New Zealand to survey and discover animal life as deep as 6,500 meters, according to a write up in Scientific American.
Researchers  descended the depths to explore the volcanic Louisville Seamount chain Kermadec Arc, which are north of the country, in a submersible owned by the Japan Agency for Marine and Earth Science. The exploratory dive was the first biological investigation in the area.
They explored the area around the inactive Canopus Volcano and found a variety of life including sponges and corals. On one dive the pilot was able to reach a volcanic vent where bacteria thrived and small fished grazed on the microorganisms.
They are now sorting through video footage and sample data.
Image: The Shinkai 6500 submersible (Credit: toshinori baba, via Wikimedia Commons)