Scientists seeking old photos of shrinking Lake Waiau, Hawaii's only alpine lake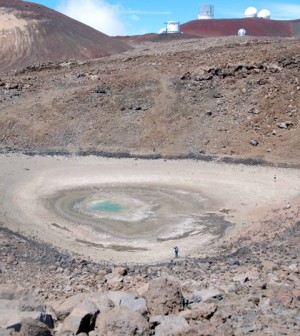 Lake Waiau in September 2013, nea a record low before rebounding in the winter (Credit: USGS Hawaiian Volcano Observatoty)
In late 2013, Hawaii's only alpine lake was on the verge of disappearing. Perched 13,000 feet up the slope of Hawaii's Mauna Kea Volcano, Lake Waiau is normally only around 300 feet wide. This December it had shrunk to around 30 feet across.
The lake is mainly fed by snowfall, and a few big winter storms have since helped it rebound, though not fully, according to Matthew Patrick, a research geologist with the U.S. Geological Survey's Hawaiian Volcano Observatory.
"We're going to be looking at it this summer to see how sustained that rebound really is," Patrick said. "The level tends to drop during the summer months when it's drier, so we'll just have to see if this is a sustained rebound or a transient rebound."
In addition to being environmentally rare — Hawaii's permeable ground makes Waiau one of its few lakes or ponds — the site is particularly sacred to native Hawaiians. As a result, scientists will be tracking the lake through non-invasive methods including satellite imagery and other remote sensing techniques.
For instance, Donna Delparte and her collaborators at the Spatial Data Analysis and Visualization Lab at the University of Hawaii in Hilo created a 3-D model of the lake and surrounding area by stitching together data from several remote methods, including terrestrial LiDAR surveys and a technique method called "structure from motion" that aggregates spatial information from a series photographs.
"What we wanted to be really conscientious of was that it's a culturally sensitive site, so we didn't want to poke around in the lake," said Delparte, an assistant professor in the Idaho State University Department of Geosciences. "So we wanted to do everything remotely so that nothing was disturbed."
University of Hawaii students Chris Nishioka, Nicholas Turner and Matt Belt processed much of the data for the project, Delparte said.
"A big part of this project was training local students on how to use all this fancy gear and get them the skills so that they were able to use this technology for environmental data collection," Delparte said.
With the data collected though those remote methods, the scientists built a 3-D model that can assess nearly any dated photograph of Lake Waiau and estimate what the water levels were when it was taken. They're hoping that a few generations of tourists will catch wind of the project and supply historical photos, which could help build a record of fluctuating lake levels and precipitation that stretches into the past.
"We're hoping (to go back) over the last 100 years, because it's been a tourist site for a long time," Delparte said. "People have been going up there since the '20s. They go up there and they take a picture."
That kind of information could build a comprehensive chart of what's been happening on the lake and how it might relate to climate change. It's too early to relate recent fluctuations with climate change, Patrick said, but there have been suggestions of warming trends in Hawaii over the past 30 years. Previous studies have shown that the state's alpine areas are particularly sensitive to those trends.
On a shorter time scale, Lake Waiau's recent shrinking does seem to be related to an ongoing drought in Hawaii that began in 2008. A question for future research would be whether this is an unusually severe drought, Patrick said.
In the meantime, anyone with photos of the lake can submit them to askHVO@usgs.gov to help the effort to build a historical context for the lake's decline.
"It's a really special place in many respects, culturally, environmentally and geologically," Patrick said. "And that's why it's really worth taking a close look at recent changes."
Top image: Lake Waiau in September 2013, near a record low before rebounding in the winter (Credit: USGS Hawaiian Volcano Observatoty)