Scientists to study drainage tile effects on Red River Valley flooding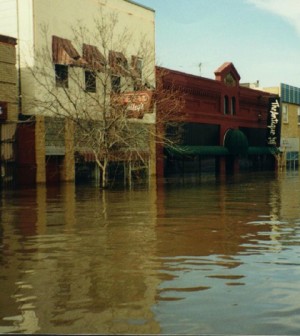 North Dakota's Red River Valley has more water miles in agricultural drainage tiles than natural waters. A non-profit research group will work with local water authorities to study the effects of these drainage systems, according to a Jamestown Sun article.
The study was spurred by those living in the Red River Valley, including city officials, who think the drainage systems may contribute to flooding in the area.  A 1997 flood, combined with severe weather, caused $5 billion in damage.
A total of 20 hydrologists and engineers will contribute as an advisory committee the study. It is expected to take just over a year to complete.
Image: Downtown Grand Forks, North Dakota, during the Red River of the North flood on April 21, 1997 (Credit: USGS)