Seagrass meadows could buffer ocean acidification effects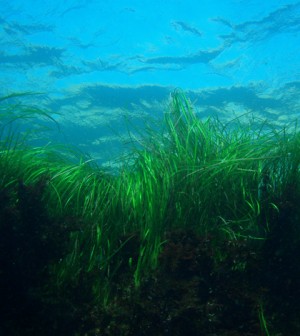 Seagrass growing in the Channel Islands National Marine Sanctuary (Credit: Claire Fackler/ NOAA CINMS)
Ocean acidification could seriously impact marine life as the problem worsens, but scientists at the University of California, Santa Barbara, believe regions of underwater vegetation could provide a haven to acid-sensitive organisms, NPR reported.
Seagrass meadows absorb CO2 and seem to neutralize acidity, making them valuable buffers for coastal ecosystems where juvenile shellfish and other creatures are particularly vulnerable to the effects of acidification.
More research is needed to quantify the benefits of seagrass beds, but scientists are already experimenting with planting undersea meadows to protect fish and plants.
Image: Seagrass growing in the Channel Islands National Marine Sanctuary (Credit: Claire Fackler/ NOAA CINMS)