Secchi Dip-in encourages citizen monitoring this summer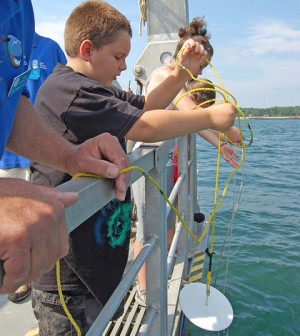 A monitoring initiative named for Secchi disks encourages people across the world to test the water nearby from the end of June through mid-July.
It's called the Secchi Dip-in and its organizers want anyone with the means to test their local water to do so and report back.  The database is open to contributions from June 29 through July 21.
Volunteers, monitoring groups and professionals alike can contribute data to the Secchi Dip-in database.  Turbidity data is the main information Secchi Dip-in organizers want to see, but they won't turn down any kind of water quality data people contribute.
They encourage interested environmentalists to go out with someone who is experienced in testing for water quality to ensure data is accurate.
Once five years of data is contributed for a site, water quality trends are analyzed.  Secchi Dip-in volunteers have contributed data from more than 2,000 water bodies.
Image: Students learn about secchi disks on a New Hampshire Sea Grant Discovery Cruise (Credit: New Hampshire Sea Grant, via Flickr)