Sediment behind Chesapeake Bay dam a ticking time bomb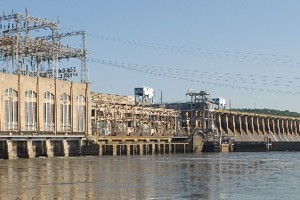 Chesapeake Bay officials are concerned over 160 million tons of nutrient-laden sediment built up behind a hydroelectric dam on the Susquehanna River. High water after a recent tropical storm forced the release of four million tons of sediment from a reservoir built to contain it, increasing worry that more big storms could undermine a multibillion-dollar restoration program underway in the Chesapeake watershed.
Suspended sediment blocks light from the bay's aquatic grasses and carries nutrients that trigger algae blooms and dead zones.
Studies show that the sediment flow from the river into the bay will jump by 150 percent once the storage reservoir behind the dam reaches capacity.
Read more at The Washington Post
Image credit: Lancaster Online