Seismometers capture crowd activity at Seattle Seahawks game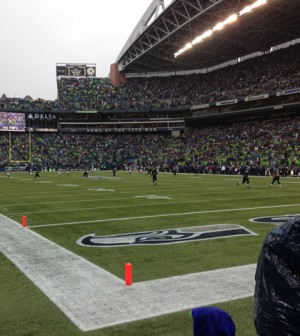 Seattle Seahawks game at CenturyLink Field (Credit: erocsid, via Flickr)
Seismologists at the University of Washington and the Pacific Northwest Seismic Network have installed earthquake sensors at the Seattle Seahawks' CenturyLink Field, according to a release.
The sensors captured seismic activity generated by the crowd during a playoff matchup between the home team and the New Orleans Saints on Jan. 11. Along with capturing some undulating wavelines, researchers installed the systems in less than a day, simulating a "fire-drill" procedure that is carried out following significant earthquakes.
Data recorded during the game have been posted online, along with analysis by the researchers. Installation of the two strong-motion seismometers added to an existing station at the stadium.
Image: Seattle Seahawks game at CenturyLink Field (Credit: erocsid, via Flickr)