Shale wastewater: Penn. treatment plant discharge cleaner without it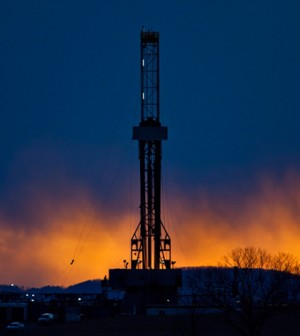 Image: Hydraulic fracturing drill rig in Pennsylvania (Credit: Environmental Protection Agency)
The water flowing from several Pennsylvania wastewater treatment plants into the state's rivers is cleaner now that the facilities have stopped processing waste from Marcellus Shale gas drilling operations, according to a recent study from the University of Pittsburgh.
The study analyzed the effluent from three wastewater treatment plants before and after the state in 2011 asked the facilities stop processing water produced by high-volume hydraulic fracturing, which is tainted with brines, oils, salts and trace metals.
Prior to the request, the boom in natural gas development in Marcellus Shale formations led to a significant increase in the amount of drilling wastewater that needed to be treated or stored. Though some of it went to industrial treatment plants, much of it ended up in municipal sewage plants that discharge into rivers and streams.
"As this development began to increase, more wastewater needed to be treated," said Kyle Ferrar, lead author of the study and a doctoral student at the University of Pittsburgh's Graduate School of Public Health. "And this wastewater began being shipped to pretty much every single wastewater treatment plant that would accept it."
Meanwhile, research from Carnegie Melon University and several government agencies on the Monongahela River had detected a trend of rising concentrations of bromides, which are salts associated with shale drilling wastewater. A report from the Pennsylvania Department of Environmental Protection listed treatment plants processing such wastewater as among the potential sources.
Around the same time, Pennsylvania citizens were voicing their concerns over the issue to the Center for Healthy Environments and Communities, where Ferrar is researcher. As a result, the center launched a round of water sampling at three treatment plants that were processing wastewater from shale gas drilling operations.
Ferrar and his colleagues collected a sample from each plant's effluent every 3 hours over a 24-hour period.
"They were long days," he said. "Very long days."
While in the field, Ferrar wanted to keep a low profile make sure the plants didn't alter their operations while he was collecting samples. Sampling at one facility without trespassing required camping out for a night in public land.
In December.
"It's up in the highlands and it snowed about a half a foot that night," he said. "The thermometer said it got down to close to negative ten that night, so it was a little chilly out there."
The samples were analyzed for salts trace elements associated with shale drilling wastewater, including barium, strontium and bromides. Overall, all the effluent from all three plants held concentrations that were above water quality criteria.
After the first round of sampling, the state requested that drillers stop taking their wastewater to these treatment plants, and that plant operators stop accepting it. All three plants in the study complied. That gave the researchers a chance to do another round of sampling to see it concentrations dropped. They did.
"They significantly decreased during our followup sampling when these facilities were no longer accepting Marcellus Shale wastewater or they had drastically cut the amount of Marcellus shale wastewater they had accepted," Ferrar said.
That's good news, but it's not the end of the story. The industry is still producing plenty of wastewater that has to go somewhere. Drilling companies are increasingly recycling the water for reuse, but they're also shipping much of it to injection wells in Ohio, which some groups oppose.
"This is just one small aspect of a very complicated issue," Ferrar said."Our results are very focused on the wastewater treatment issue, and there are many other issues and many other sources of exposure to this waste water. There is a lot of other really good research that's happening."
The results of the study were published online this month by the journal Environmental Science and Technology.
Top image: Hydraulic fracturing drill rig in Pennsylvania (Credit: Environmental Protection Agency)