Shipboard monitoring shows sulfur dioxide down at European ports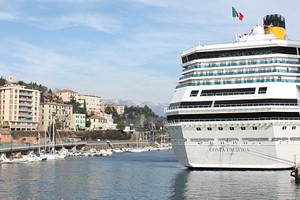 Data from a shipboard sensor shows that airborne sulfur dioxide concentrations have declined around Mediterranean shipping ports, according to a release from the European Union's Community Research and Development Information Service.
Sulfur dioxide contributes to acid rain and human health problems, including respiratory and heart disease. EU rules requiring ships at port to run on low-sulfur fuels went into effect in 2010.
Data from a monitoring station aboard the cruise ship Costa Pacifica showed daily mean sulfur dioxide concentrations declined by an average of 66 percent from 2009 to 2010, the year the rules were first enforced.
Concentrations of the gas didn't decline at a non-EU port not subject to the rules, and levels of pollutants other than sulfur dioxide state didn't drop over the study period. Those findings suggest that the new rules contributed significantly to the drop at EU ports.
Image: Cruise ship Costa Pacifica docked in Savona, Italy, one of the ports under study. (Credit: Wknight94, via Wikimedia Commons)