Shrimp parasite cuts into fishermen's hauls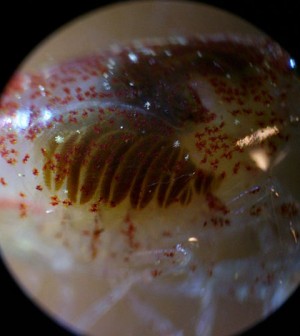 Black gill disease on a cherry shrimp (Credit: JCD, via Wikimedia Commons)
State wildlife officials in the southeastern United States have reported a drop in shrimp hauls due to the proliferation of an aquatic parasite, Reuters reported.
The parasite causes black gill disease, a respiratory illness that exhausts the shrimp, making them more vulnerable to predators. The disease is believed to be responsible for a decline of white shrimp between August and October.
Shrimpers in South Carolina caught 44,000 pounds of shrimp this September, in contrast to a 750,000 pound haul in September of last year. Shrimp hauls in August fared no better, with a 75 percent decrease from the same month in 2012.
The shrimping industry is worth between $6 million and $8 million in South Carolina each year, and around $12 million in Georgia.
Image: Black gill disease on a cherry shrimp (Credit: JCD, via Wikimedia Commons)