Shrinking Peruvian glacier has temperature to blame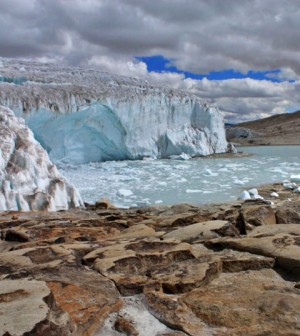 Quelccaya Glacier (Credit: Edubucher, via Wikimedia Commons)
Research led by scientists at Dartmouth College finds that much of the melting experienced by a Peruvian glacier has temperature to blame, according to the New York Times.
The glacier emerges from the Quelccaya ice cap in Peru and is the largest piece of ice in the tropics. To see if they could pinpoint the cause of its reduced size, researchers compared records of its movement to those of ice accumulation in the region.
They found that the glacier has grown when ice accumulation was low and likewise retreated during times of high accumulation. The variation helped them rule out snowfall, cloud cover and other factors.
Though secondary factors play a role, scientists say the primary driver for the glacier's melting is temperature.
Image: Quelccaya Glacier (Credit: Edubucher, via Wikimedia Commons)