Six Smartphone Apps Every Angler Should Have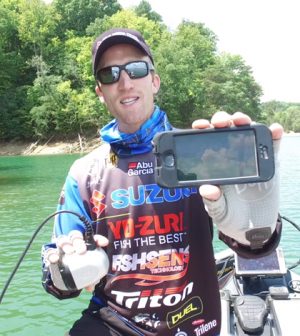 Brandon Card using the FishSens SondeCAM app with the underwater camera. (Courtesy of Brandon Card)
No matter what you need to do, there is probably an app for it out there somewhere. When it comes to fishing, smartphone apps have changed the way that I pre-fish for tournaments and approach areas while I am on the water. These apps are what I use and are something that all anglers should try. You don't even need to have a boat to see the benefits.
Navionics App
Just about everyone I know has the Navionics app on their phone or tablet. It is a great way to instantly check out the bottom contours of the lake you are fishing or one that you plan to go to. It is really accurate and helps me find depth changes, humps, underwater points and much more. I highly recommend it if you don't already have it.
I also have a pretty funny story about this app. A few years ago while I was pre-practicing for an Elite Series event on Lake Seminole, I was following my charts to fish an offshore contour that had a deep weedline. I was moving along and came across two teenagers in an old, beat up aluminum boat with no electronics whatsoever. They were crushing the fish on lipless crankbaits and even showed me pictures of bigger ones they had caught earlier. They were following the contour on their Navionics smartphone app and doing way better than I was in my much more decked-out boat. It works and these kids figured it out.
Google Earth
Like the Navionics app, Google Earth helps me locate good fishing areas. I really like to use this in the spring to locate backwaters that other people may have missed. It really helps to find these areas, but it is also great for seeing underwater points, humps and grass lines. This is another must-have app for anglers.
FishSens SondeCAM App
This one may be my favorite and I have used it quite a bit this year. The SondeCAM is a fun way to get video of fish and habitat underwater and the new app makes it even better. The app allows me to easily start and stop my recording right from my phone.
You can easily edit your videos and it makes it convenient to do it right away. Before I would have to take out my SD card, put it into my computer and then edit it. It removes a few steps for me and makes it much faster when I am away from my computer.
Another thing I like about it is the photo feature. Before I would take screenshots of video and it worked OK, but this makes it much easier to get a clear picture of my underwater footage.
All of the photos and video you take while using the app go straight to your photo gallery on your phone. This makes it convenient to share them right away to your social media pages or as a text to one of your buddies.
This app allows anyone to use the camera without even needing a boat. You can drop it down under a dock or pier and see what is down there while looking at your phone. I have even heard of people attaching the camera to a telescopic pole and sticking it into laydowns and other cover as they walk the bank.
Weather.com App
There are many great apps for getting weather reports. I like the weather.com app as it seems to be the most accurate. Weather is unpredictable as we all know, but I like to track the temperatures, wind speed and direction as well as the chance of rain. All of this factors into my fishing.
There are also some great wind apps out there that will show you wind speed and also direction. I have used these on some bigger lakes like the Great Lakes as well as on Lake Champlain. Wind up there can decide if you can even go out on the water that day and it is helpful to see which direction it is blowing.
YouTube
This may seem like an easy one, but the YouTube app on my phone really helps me with fishing. There are so many videos out there that no matter what lake you are headed to, there is probably some footage out there. I use this to gauge how the fishing will be and what size and species of fish are biting in that body of water before I head to somewhere new.
The videos out there are also a great way to learn about a new product or technique. Pros and amateurs alike are always showing new tricks to make us all better anglers.
Lowrance GoFree Hooked Fishing App
This is another relatively new one and something I think is really cool. This app allows you to record your fish catches to create a log. It saves the time, location and exact GPS location of your catch. This is a cool way to track your trips and reference them later.
Like the SondeCAM app, you can easily share pictures of your fish to social media. Another cool feature is the contest feature. You can start your own competition with friends in a MLF format for total fish caught. I haven't used this feature yet, but plan to this season with my buddies back home.
Top image: Brandon Card using the FishSens SondeCAM app with the underwater camera. (Courtesy of Brandon Card)