Source of organic carbon runoff effects coastal oxygen depletion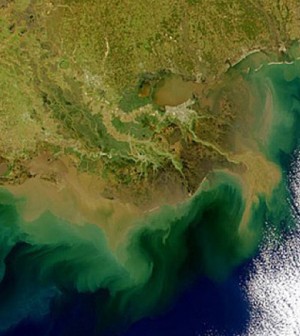 A new study led by Virginia Institute of Marine Science researchers has revealed that organic carbon runoff from urbanized and heavily farmed landscapes could increase oxygen depletion in coastal waters more than runoff from less populated areas, according to the institute.
Researchers conducted the study by taking water samples from seven Chesapeake Bay tributaries. Three of the tributaries received runoff from forested watersheds, while the other four received runoff from more industrialized areas.
The study showed that the organic carbon runoff from urbanized areas was less susceptible to degradation from bacteria and sunlight than runoff from the forested watersheds. The ability to retain its nutrient composition is what makes urban organic runoff more likely to cause oxygen-deprived dead zones in waterways.
Image: In 2011, 6,800 square miles of dead zone occupied the Gulf of Mexico (Credit: NASA)