South Florida Water Management District Tracks Wind, Impacts To Wetland Nutrients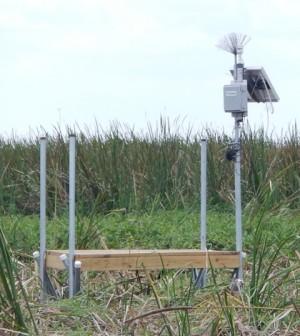 An Airmar 150WX Ultrasonic Weather Station sits on top of a solar-powered NexSens data logging system in a vegetated wetland overseen by the South Florida Water Management District. (Credit: Zaki Moustafa, SFWMD)
When the wind blows over water, it creates waves and ripples. Those tend to bounce around and move things along with them like plants and nutrients. Scientists at the South Florida Water Management District (SFWMD) are investigating how cattails and other types of emergent aquatic vegetation impact nutrient transport in large constructed wetlands.
To test the hypothesis that emergent aquatic vegetation can reduce wind stress and, as a result, lower nutrient transport, researchers are conducting an experiment to quantify the effects that aquatic plants have on wind-generated stress in constructed wetlands. Results of the study could help improve management of the SFWMD's stormwater treatment areas (STAs) and the reduction of nutrient concentrations, mainly phosphorus.
Scientists with the District are comparing two experimental wetland sites – one with emergent vegetation (i.e., cattails), and one without (i.e., open water). To measure wind at both sites, they have outfitted them with Airmar 150WX Ultrasonic Weather Station Instruments.
"The main reason is to determine and quantify the impact of wind stress on nutrient transport in open and vegetated areas in large, constructed wetlands," said Zaki Moustafa, principal scientist at the District and leader of the research. The effort is aimed at answering one question, he says: What role does wind-generated stress play in transporting nutrients in large subtropical wetlands (STAs)?
Scientists are measuring much more than wind during the study, tacking on parameters like air temperature, barometric pressure, relative humidity and dew point. The plan is to monitor and evaluate the impacts each parameter has on nutrient transport given the presence of aquatic vegetation, but Moustafa says wind speed and direction are the most important.
The project is still ongoing, and there are no concrete conclusions to report. But Moustafa does have expectations for what the investigation may find.
"We anticipate that wind stress will be reduced. Drastically, I believe, due to the presence of emergent aquatic vegetation," said Moustafa. "Yet, by how much? That will be determined when we finish analyzing the data."
The Airmar weather stations are ideal for the application because they are designed in a way that minimizes interference from wetland inhabitants. Through using other weather stations, Moustafa says he noticed spiders could string cobwebs through monitoring equipment. The interference that resulted hurt data accuracy.
"When we deployed a traditional weather station, we were faced with cobweb buildup on the anemometers, and it almost stopped those cups from rotating," said Moustafa. "Cleaning and spraying, even on a daily basis, did not alleviate the cobweb problem, and that is when we switched to the Airmar 150WX Ultrasonic Weather Station."
Top image: An Airmar 150WX Ultrasonic Weather Station sits on top of a solar-powered NexSens data logging system in a vegetated wetland overseen by the South Florida Water Management District. (Credit: Zaki Moustafa, SFWMD)