SPURS voyage finishes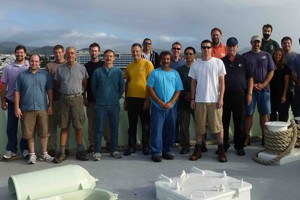 A collaborative three-week mission to monitor the saltiest place in the Atlantic has finished successfully in Portugal, according to a Salinity Processes in the Upper Ocean Regional Study blog post.
Scientists on the SPURS mission successfully deployed a huge amount of long term monitoring technology, recorded continuous data and sampled water vigorously.  "We got our sensor web in the water for the coming year: three moorings, 25 Argo floats, 18 surface drifters, three Wavegliders, three Seagliders, and a Lagrangian Mixed Layer Float," said Eric Lindstrom, NASA physical oceanography scientist and SPURS blog writer.
Scientists will interact with the sensor web and receive data that will be constantly collected by floats, moorings and AUVs.
The voyage was one part of a long-term mission to better understand ocean salinity and calibrate NASA's Aquarius Satellite.  Scientists and engineers from several organizations, including NASA, the National Oceanic and Atmospheric Administration and the Woods Hole Oceanographic Institution, partook in the mission.
The next deployment destination has not been determined, but scientists hope to take the same thorough monitoring approach in 2013 on an area with very low salinity.
Check out the SPURS blog for more information on the mission and updates on data from the sensor web.
Image: The SPURS team (Credit: NASA)