Squids And Cephalopods Increase Populations Over Past 60 Years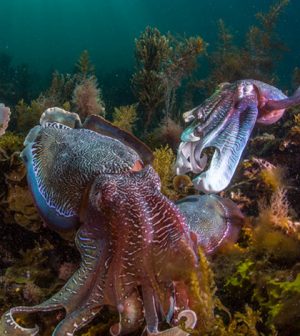 Populations of cephalopods have been increasing in the past 60 years. (Credit: Scott Portelli)
Researchers at the University of Adelaide in Australia have charted a decrease in fish living in the world's oceans that coincides with an increase in creatures like squids and cephalopods, according to the New York Times. They guess that a combination of overfishing and climate change are two possible causes for the shift.
Scientists made the find after compiling a number of datasets covering cephalopod populations from 1953 to 2013. The global database that they put together contained information on the catch rates of 35 different species that inhabit parts of the oceans all over the world.
Considering those datasets, the researchers were surprised to see that cephalopod numbers were consistently increasing regardless of if they swam in open seas or scuttled in tide pools. The large-scale transition represents a threat to the state of the global ocean ecosystem.
Top image: Populations of cephalopods have been increasing in the past 60 years. (Credit: Scott Portelli)