St. Clair River underwater turbine project faces hurdles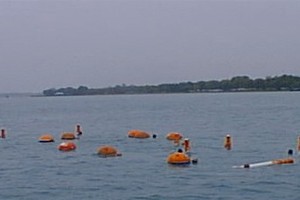 A project to test underwater power-generating turbines in the St. Clair River that won initial approval from a federal energy agency two years ago still faces regulatory hurdles before the turbines can go in the water, according to a report from the Detroit News.
The project has approval from the Federal Energy Regulatory Commission, but still needs approval from state and local agencies, including the Michigan Department of Natural Resources. The DNR has concerns with the project's potential impact on the river's fish populations, which include threatened lake sturgeon and commercial walleye stocks.
Read more at The Detroit News.
Image credit: USGS.