St. Cloud watershed continues having pollution issues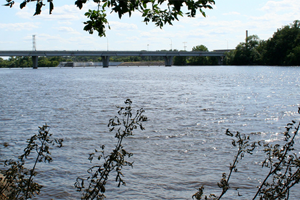 The Minnesota Pollution Control Agency released a water-quality monitoring and assessment report in November for St. Cloud area lakes and rivers, according to the St. Cloud Times. It showed that many waterways in the St. Cloud watershed have excessive levels of nutrients and bacteria.
Intensive monitoring for the report began in 2009, with samples being taken from more than 70 rivers. The water also underwent testing to determine if it could support fish and macroinvertebrate populations.
The 1,080-mile watershed includes 907 miles of river and 374 lakes, spanning parts of Benton, Meeker, Mille Lacs, Morrison, Sherburne, Stearns and Wright counties in Minnesota. MPCA  has recommendations for improving watershed water quality, including reducing farm runoff, protecting forests, and better managing storm water.
Image: The Mississippi River at St. Cloud (Credit: Rob Evans, by Flickr)