State tests find no air quality violations near Wyoming natural gas field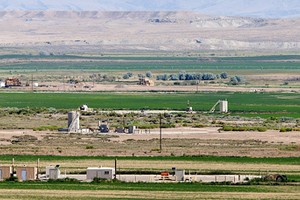 A Wyoming Department of Environmental Quality test for nitrogen oxides, hydrocarbons, particulate matter and ozone in the air around a natural gas field in the state found no violation of federal standards, according to the Associated Press.
The study monitored for the contaminants at two stations near Pavillion, Wyo., where Encana Oil and Gas is extracting natural gas through hydraulic fracturing. The area has also been under study by federal environmental agencies trying to determine whether the practice has contaminated groundwater.
Air quality has been a problem for other Western gas fields where environmental conditions are more conducive to ozone formation.
Image: Gas fields of Pavillion, Wyo. (Credit: Jeremy Buckingham MLC, via Flickr)