Steelhead-saving lagoon breach prevents annual steelhead deaths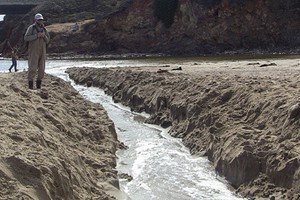 And effort to prevent an annual fish kill in California's Pescadero lagoon was a success after workers dug an artificial breach in sandbar between Pescadero lagoon and the ocean, according to the San Mateo Daily Journal.
The breach allowed cold, oxygen-rich ocean water to flow into the lagoon, preventing a drop in water quality that had killed as many as 200 threatened steelhead trout in previous years. No steelhead died for the first time since 2000.
Water quality monitoring in the lagoon showed that conditions continued to decline after a hand-dug channel closed up in early October. That led to a second larger channel excavated by heavy equipment. Subsequent monitoring has shown that conditions in the lagoon are ideal for steelhead.
Image: Workers survey the initial trench dug to artificially breach Pescadero Lagoon in an effort to prevent a fish kill that occurs when the lagoon breaches naturally (Credit: Sarah Swenty/USFWS, via Flickr)