Forests keep stream temperatures cool and stable across North America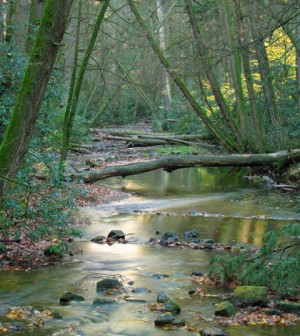 Standing Stone Creek, Huntingdon County, within the Alan Seeger Natural Area of Rothrock State Forest. (Credit: Nicholas A. Tonelli, via Flickr)
A new study of stream temperatures across North America founded that a forested canopy over the water almost always kept temperatures cooler and more stable, to the general benefit of stream organisms.
The study compared temperatures in forested and open stream segments at 11 sites in the U.S. and Canada, from British Columbia in the northwest to Tennessee in the southeast. Overall, the forest sites were cooler, had less fluctuation in daily stream temperatures and their daily maximums were lower, according to Jeffrey Simmons, they study's lead author and associate professor of environmental science at Mount St. Mary's University in Maryland.
"Different vegetation and different elevation at all these sites, and yet the response was pretty uniform," Simmons said. "That means that they canopy effect is robust. We can expect to find it all over the U.S., not just in certain locations."
The results seem intuitive: A leafy canopy shades the stream and prevents sunlight from heating the water. The results of past studies, however, haven't all been so cut-and-dried. Some research of streams with recently cleared riparian forests, for example, didn't show the expected warming after the loss of cover.
The new study, published in the journal River Research and Applications, had a design that ironed out some of the complicating issues. Instead of measuring short-term effects right after disturbances like clear-cutting, their study streams ran through suburbs and agriculture where the landscape hadn't been disturbed for at least 10 years, giving the channel a chance to adjust to changes.
They also focused not on absolute temperatures, but on relative changes in each of their 80- to 130-meter-long study segments. With temperature sensors and data loggers installed at the top and bottom of each segment, the researchers could track how the water changed as it flowed through a shaded or sun-lit channel. That helped control for the influences upstream of the study segment at made it easier to compare sites across latitudes and elevations.
Designing the study across six states and two provinces was logistical challenge. Simmons said the collaboration benefited from the Ecological Research as Education Network, or EREN, which brings together ecologists mostly from small colleges to find ways to collaborate on a national scale.
"Developing this project was definitely complicated," Simmons said. "But using the Internet and email and having a written set of protocols that everyone agreed to follow made it work out."
Top image: Standing Stone Creek, Huntingdon County, Penn., within the Alan Seeger Natural Area of Rothrock State Forest. (Credit: Nicholas A. Tonelli, via Flickr)