Study finds airborne carcinogens around gas drilling sites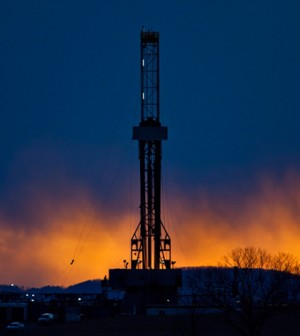 Image: Hydraulic fracturing drill rig in Pennsylvania (Credit: Environmental Protection Agency)
A new study completed by West Virginia University's School of Public Health has found that air quality around gas drilling sites is polluted with carcinogens, West Virginia Public Broadcasting has reported.
Researchers placed portable air quality sensors around seven drilling sites for a period of four months last summer. The monitors tested air, noise and light levels at various sites that were operating at different stages of the drilling process.
The samples showed that many sites had excessive amounts of dust that contained benzene, a known carcinogen.
Exposure to benzene has been linked to aplastic anemia, acute leukemia and bone marrow abnormalities.
Researchers suspect that diesel engines might be a main contributor to the toxic pollution because of the high truck traffic and number of machines powered by the engines at drilling sites.
Image: Oil rig in Michigan (Credit: Dwight Burdette, Wikimedia Commons)