Study: Reducing phosphorus runoff may cut microbial nitrogen removal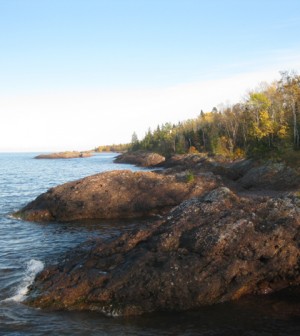 Researchers from the University of Minnesota found that reducing phosphorus runoff into lakes may cause more nitrogen to linger, according to a UM press release.
Findings indicate that excess loading of phosphorus and nitrogen over time may cause increases in microbial consumption in U.S. large lake systems.  Microbial consumption does not necessarily continue at the same rates once nutrient deposition is reduced.
Researchers Gaston Small, University of St. Thomas professor of ecology, Jacques Finaly and Robert Sterner, both UM ecology professors, studied Lake Superior noticing that it could not efficiently remove nitrogen, though it has low phosphorus concentrations.
The researchers say that while an increase in nutrient deposition into lakes may increase removal they do not encourage nutrient pollution.
Image: Coast of Lake Superior (Credit: Richie Diesterheft, Wikimedia Commons)