Study finds smaller drought threat to U.S. water security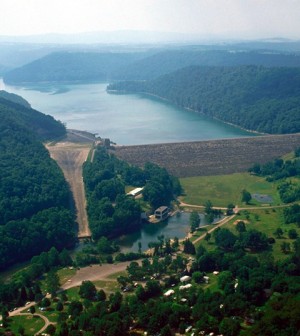 A new method  of calculating water security that accounts for infrastructure shows that U.S. cities face a smaller threat from drought than previously thought, according to the University of Florida.
The researchers found that estimating water availability by only rainfall and water levels is not truly representative of a city's water security. Infrastructure like reservoirs and storage tanks that secure water must also be taken into account.
The researchers compared data from 225 major cities from their previous study on runoff water availability to a study of the same cities using their new method, which incorporated infrastructure. They found a 30 percent decrease in vulnerability to water shortage when the study accounts for reservoirs and storage tanks.
Click here to see the 225 major cities and their newly assessed vulnerability to drought.
Image: Accounting for reservoirs like the Youghiogheny Lake and Dam decreases drought threat calculations (Credit: U.S. Army Corps of Engineers)