Study shows Canadian subarctic lakes shrinking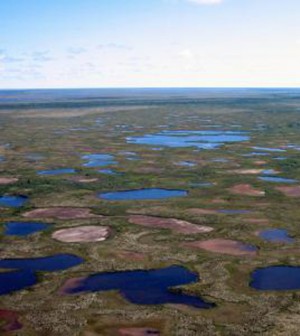 Desiccated lakes in Northern Canada (Credit: Hilary White)
A study of Canadian subarctic lakes shows they are shrinking due to a decrease in snow fall over the past 13 years, according to a release for the study, which is published in Geophysical Research Journal.
Researchers from Université Laval, Wilfrid Laurier University, Brock University and the University of Waterloo studied 70 lakes in Yukon and Manitoba. They hypothesize that a decrease in melt water has caused the lakes to decrease.
Average precipitation from 2000 to 2013 has decreased by 73 millimeters in comparison with precipitation from 1971 to 2000.
Snow is critical to sustain the lakes and represents 30 to 50 percent of the annual water supply, said lead author Frédéric Bouchard, a postdoctoral fellow at Université Laval's Department of Geography.
Image: Desiccated lakes in Northern Canada (Credit: Hilary White)