Subarctic wildfires more common now than in past 10,000 years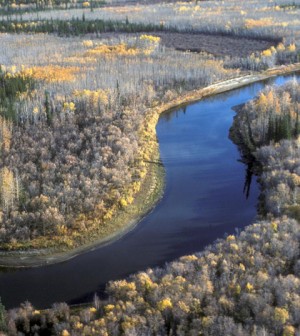 Beaver Creek in the Yukon Flats (Credit: David Spencer, U.S. Fish and Wildlife Service)Beaver Creek in the Yukon Flats (Credit: David Spencer, U.S. Fish and Wildlife Service)
A new study conducted by researchers from the University of Illinois has shown that subarctic wildfires are happening more frequently now than at any time in the past 10,000 years, according to a report from LiveScience.
Researchers collected ancient charcoal samples from the bottom of 14 different lakes in the Yukon Flats of Alaska. By analyzing samples of the charcoal, scientists determined that wildfires are now occurring at the rate of 20 wildfire events per 1,000 years. The previous rate was about 10 events per 1,000 years.
Scientists concluded that the increase in wildfire activity is linked to warmer global temperatures caused by climate change as well as a more flammable tree population.
Image: Beaver Creek in the Yukon Flats (Credit: David Spencer, U.S. Fish and Wildlife Service)