Submersible Fiobuoy eases retrieval of underwater sensor deployments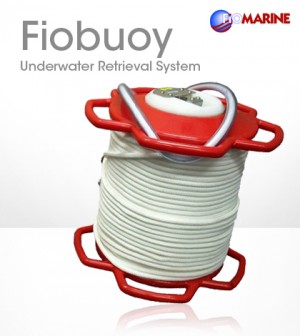 Fiomarine Fiobuoy
Monitoring buoys commonly float on top of the water. Their mooring lines descend beneath, along with sensor packages that take measurements of water quality. A better way, according to specialists at Fiomarine, is to deploy the platform that holds those complex sensors beneath the water's surface.
The Australian company makes the Fiobuoy, an underwater retrieval system, that is used in underwater deployments. It is a favorite of those in research, oil exploration and ocean energy. The Australian Navy uses Fiobuoys in mine warfare operations.
"Traditional surface markers are a hazard to navigation, are subject to damage by wave action and their lines can be caught up in a vessel's propellers," said Mike Shegog, technical director. With a Fiobuoy, those issues don't come up.
To use a Fiobuoy, users first program or check settings on the device by interfacing with a direct-connect infrared cable supplied by Fiomarine. Any terminal program can be used to check mission parameters, says Shegog. A PSION Workabout handheld can also be used. From that point, it's not that complex.
"Making sure it's firmly tied to your instrument pack and mooring weight, if you have one, throw everything over the side (of the boat), taking a GPS mark of course," said Shegog. "The assembly will then sink to the seabed where the Fiobuoy floats suspended above the payload awaiting further action."
The length of rope that the Fiobuoy releases is pre-programmed. So users can have more or less available if sensors will be tied to the line itself. Bottom-deployed sensors, like acoustic Doppler current profilers, are tethered to seafloor platforms.
After the monitoring project is complete and data have been collected as needed, users return to the GPS-marked position. With a laptop or using the PSION handheld, they then connect to an acoustic deck unit, key in a six-digit code specific to the Fiobuoy nearby and send an underwater ping.
"At that point, the jaw and pin disengage from each other and the Fiobuoy flips onto its side and starts unrolling its way slowly to the surface, a little like a Yo-Yo backwards," said Shegog. "Upon reaching the surface and still tethered to its mooring weight, it assumes the role of a standard surface marker float ready for retrieval onboard."
Acoustic retrieval can only be accomplished using the acoustic-enabled Fiobuoy model. There is another model that floats back to the surface at a certain time and date. Shegog says the acoustic Fiobuoy, which also has the time-date option, is the more popular of the two because users can program a release event as a backup.
For sensors that use acoustics, there's no danger that their data collection will be hindered by pings from or to a Fiobuoy. "Acoustic comms are only active on completion of the mission," said Shegog. "Conversely, there is no chance that the sensor's acoustics can interfere with, or inadvertently activate, the Fiobuoy due to our highly sophisticated security encoding."
Beyond the acoustic and time-date Fiobuoy models, users can choose between a 100-meter and 200-meter configuration. The 200-meter setup is a little larger, allowing for additional equipment to be internally deployed. It also has a greater buoyancy and is better suited for high-current conditions.
If users run into rough spots, Fiomarine is there to assist. Shegog says they have a strong policy of customer support and representatives that can help around the world.
"The moment you start putting valuable equipment into the sea, nature will work very hard to make your life difficult," said Shegog. "But we're here to help."