Suomii NPP satellite imagery depicts worldwide vegetation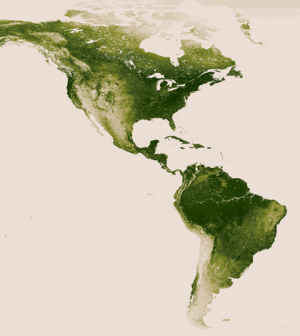 A year's worth of data gathered by a NASA satellite provide insight into changes in global vegetation, according to Science World Report.
NASA's Suomi NPP satellite helps researchers monitor and predict climate change and meteorological conditions. The Suomi NPP is one of many satellites that make up the Earth Observing System, which allows NASA to study many aspects of Earth, including clouds, oceans and vegetation.
Vegetation has been the Suomi NPP's focus for the last year, and the pictures taken by the Visible-Infrared Imager/Radiometer Suite will be utilized by various services of the Normalized Difference Vegetation Index. This data will assist researchers in calculating global temperatures and studying the effects of drought.
Image: The vegetation of North America as captured by the Suomi NPP satellite (Credit: NASA)