Survey shows perfluorinated chemicals in New Jersey public water systems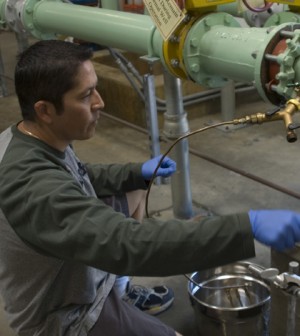 The USGS samples public supply wells for its Principal Aquifer Surveys (Credit: Cathy Munday, USGS)
A 20-county survey of New Jersey's water showed that two-thirds of the state's public water systems contained perfluorinated chemicals, according to the NJ Spotlight.
The survey, conducted by the New Jersey Department of Environmental Protection, took 33 samples from 31 municipal water systems. Of the samples, 22 contained perfluorinated chemicals — man-made compounds used in stain repellent and food packaging, among other products.
Although the survey was completed in 2010, it was not published until this year in spite of repeated requests by the Delaware Riverkeeper Network.
Perfluorinated chemicals have been linked to certain cancers in humans, as well as reproductive and developmental issues in animals. The chemicals are not biodegradable, and are often ignored by water suppliers as their removal is not required.
Image: The USGS samples public supply wells for its Principal Aquifer Surveys (Credit: Cathy Munday, USGS)