Surveying, Models Look To Improve Wetlands In Illinois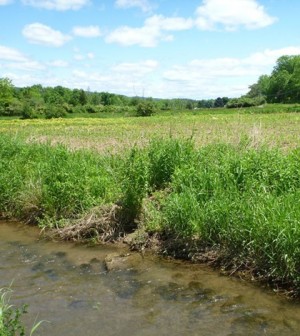 Wetlands are at risk of being degraded or overrun by invasive species. (Credit: Riparia / Penn State)
Wetlands provide important habitat for numerous creatures and aquatic life. But that role largely depends on how much water they contain, which is something that is difficult to gauge at times. For some wetlands in Illinois, researchers at Southern Illinois University Carbondale are working to improve models of how wet the areas are as part of a bid to help protect the state's wetlands in the future.
Scientists at the university plan to use ground surveys and radar imaging in the effort. The hope is that those tools will provide the data needed to modify wetland habitat management objectives to help Illinois wetlands that aren't producing like they should. Also, investigators are looking to fill gaps in understanding how wetland water levels naturally vary.
Currently, there are fairly accurate estimates of the overall acreage of wetland spaces, but there is little means to estimate how much of the spaces are inundated at a given time. Scientists are looking to pin those figures down so that they can be used in predicting impacts to habitats and wildlife.
Results of the effort will be shared with the National Wetlands Inventory database.
Image Credit: Penn State University