Susquehanna Report: monitoring, restoration funding needed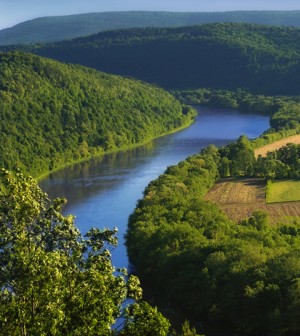 The State of the Susquehanna Report, detailing the health and needs for one of the Chesapeake Bay's major tributaries, indicates that monitoring professionals need more funding to manage and restore the ailing watershed.
The Susquehanna River Basin Commission warns that without reliable funding they cannot track pollution loading, flood risk and water withdrawal.
"I cannot stress enough just how incredibly vital the stream gaging network is for the communities and citizens of the Susquehanna basin, said SRBC Executive Director Paul Swartz. "I sincerely hope the importance of gages can be fully appreciated before this invaluable water infrastructure is lost to us."
The 2012 report delivered some news of improvement for river health, including 12 fewer days of swimming area closures compared to 2010. Beaches were closed for 19 days compared to 31. Monitoring also showed a decrease of habitat impairment from 346 stream miles to 322 stream miles.
Still, the river has a host of problems with mine drainage, bass illness, nutrient loading, storm water runoff and bacterial contamination of waters.
Image: Susquehanna River (Credit: Nicholas A. Tonelli, via Flickr)