Susquehanna River Basin Commission approves water use projects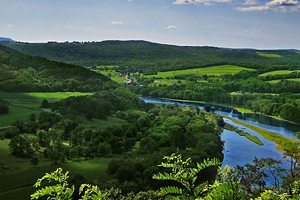 The Susquehanna River Basin Commission approved 22 new water withdrawal and consumptive use applications at the group's quarterly meeting last Thursday, according to a release from the commission.
The majority of the approved water consumption applications were for oil and gas extraction. Hydraulic fracturing is a widespread practice in the area and many energy and petroleum companies applied to use water in the river basin.
A few applications were passed for water consumption by municipalities.
The commission also voted to partially waive fees for project sponsors that choose to abort projects before they receive a technical review.
The Susquehanna River Basin Commission regulates interstate water use and monitors water to maintain quality.
North Branch Susquehanna River (Credit: Nicholas A. Tonelli, via Flickr)