Sustain Our Great Lakes announces restoration grants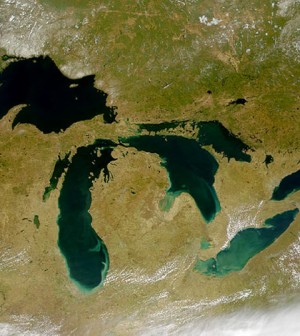 Great Lakes from space (Credit: SeaWiFS Project, NASA/Goddard Space Flight Center, and ORBIMAGE.)
Sustain Our Great Lakes announced $8.4 million in grants to continue improving the ecological health of the world's largest freshwater system.
Granted projects heavily emphasize invasive species control and aquatic flow improvements for fish passage.  Other common factors among the funded projects include restoring habitats and stabilizing river and stream sections.
In total the 29 restoration projects are projected to restore 7,600 acres of wetlands, 107 stream miles and engage landowners to take a more active role in keeping the environment healthy.
Government and private partners that funded the grants include the National Fish & Wildlife Foundation, ArcelorMittal, U.S. Environmental Protection Agency, U.S. Fish and Wildlife Service, USDA Forest Service, and National Oceanic and Atmospheric Administration.
Image: Satellite image of the Great Lakes from space (Credit: SeaWiFS Project, NASA/Goddard Space Flight Center, and ORBIMAGE.)