Suttle Lake Data Buoy Answers Salmon Questions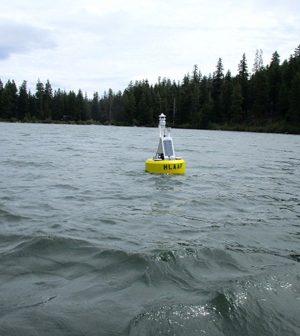 A new water quality monitoring buoy deployed in Oregon's Suttle Lake is gathering information about its food web, important for helping salmon stocks there. (Credit: High Lakes Aquatic Alliance Foundation)
Oregon's Suttle Lake is home to populations of kokanee salmon, best described as the landlocked version of sockeye salmon. In 2003, kokanee salmon there were anywhere from 12 to 18 inches long. Nowadays, their average size is around a mere nine inches according to the U.S. Forest Service (USFS).
Clearly something is going on with kokanee salmon in Suttle Lake. But there has also been a recent resurgence of sockeye using the lake as well, thanks to dam removal projects and stream modifications by USFS fisheries biologists that have helped reduce difficulty for fish passage.
To help improve understanding of both types of salmon that live in Suttle Lake, officials at the High Lakes Aquatic Alliance Foundation (HLAAF) have launched a water quality monitoring buoy in the water body. It took its spot in the eastern portion of the lake in July 2016, and will likely provide insight into more than just fish.
"The lake was once the home of a strain of sockeye salmon that had disappeared," said Frank Conte, a retired professor of limnology at Oregon State University and board member at the foundation. "In the past three or four months, they've had ancient salmon re-appearing in the Columbia River and the Deschutes River."
There is interest in figuring out where those salmon are going, Conte says. They could be heading from the Deschutes through the Metolius River and then on into Suttle Lake. The Confederated Tribes of Warm Springs, a longtime partner of the HLAAF, is keen to figure that out.
Another question remains as to the ability of Suttle Lake, with its shrinking kokanee, to sustain populations of hungry sockeye salmon as they spawn.
"How might the spawning affect the fish that are already there?" said Conte.
To get at those questions, the NexSens CB-450 lake data buoy is equipped with a number of sensors that gather measurements on conditions directly affecting Suttle Lake's food web. These include a Lufft WS501 weather sensor, Hydrolab DS5 sonde and two LI-COR sensors tracking photosynthetically active radiation (PAR).
The weather sensor logs data on air temperature, humidity, barometric pressure and wind. The sonde is outfitted to track temperature, conductivity, pH, dissolved oxygen and pigments. An LI-190R measures PAR above water, while an LI-192 tracks it below the surface to a depth of 5 feet.
All of the sensors are powered by three 10-watt solar panels and send measurements to a data logger housed within the buoy. The logger is equipped with cellular telemetry to broadcast measurements to managers at the foundation in real time.
"We need to have the buoy to give us the chemistry of the lake," said Conte. "It puts us in comparison with some of the Arctic limnology going on. It's a vital thing for our lake, which is a freshwater lake."
In the future, he and others with the HLAAF would like to take the buoy system to other high lakes nearby that are important for the migration of waterfowl. Lake Abert, a saline lake to the south of Suttle Lake, is one possible water body.
Abert is an important resting point for birds moving from Canada down to lakes in Mexico and Peru, says Conte. They love to stop at Lake Abert — Oregon's only saltwater lake — because of its brine shrimp, which have been threatened in recent years by receding waters.
"The Pacific Flyway (major waterfowl migration route), we haven't touched it yet," said Conte. "Suttle Lake is a defining work. We have the buoy for three years to use there, and then we might go to putting it into Lake Abert. We could then go to the national bird associations and join the studies they have."
Top image: A new water quality monitoring buoy deployed in Oregon's Suttle Lake is gathering information about its food web, important for helping salmon stocks there. (Credit: High Lakes Aquatic Alliance Foundation)