Temperatures in Canadian Arctic highest in 44,000 years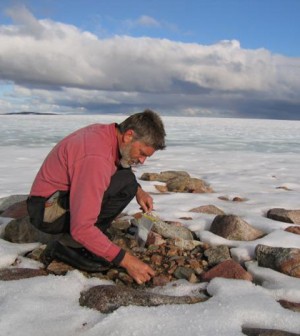 Gifford Miller collecting dead plant samples from beneath a Baffin Island ice cap. University of Colorado.
Researchers at the University of Colorado have found that summer temperatures in the Canadian Arctic are at their highest levels in 44,000 years, according to a release. They say that temperatures measured in the area during the last 100 years are higher now than any other century over the 44,000-year period.
The scientists used radiocarbon dating to study clumps of moss emerging from ice caps. The dating technique – which is only accurate to about 50,000 years – showed that current temperatures in the Canadian Arctic have not been matched or exceeded since the last glacial period.
Radiocarbon dating was also done on 145 plants on an island near Greenland that were also exposed due to receding ice. The dates, when taken into consideration with ice cores collected from the Greenland Ice Sheet, helped the researchers determine the last time the Arctic was as warm as it is today: roughly 120,000 years ago.
Image: Gifford Miller collecting dead plant samples from beneath a Baffin Island ice cap. (Credit: University of Colorado)