Texas A&M students learn through green roofing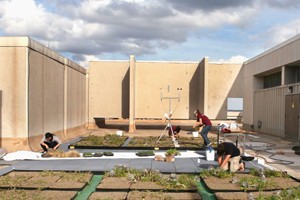 Students at Texas A&M University are getting experience in green roofing thanks to a grant aimed at enhancing their workplace readiness, according to a newsletter from the Texas A&M College of Architecture.
Students fitted the rooftop of a campus building with grasses, succulents and other vegetative coverings as part of an immersive, hands-on learning experience. A weather station was installed, allowing them to collect and analyze data.
The three-year, $300,000 project is funded by the university's Tier One program that looks at ways to provide students with learning experiences outside the classroom. In addition to learning the science behind green roofing, the students get to see its benefits firsthand and experience working in teams.
Image: Students installed a green roof on Langford A. (Credit: Texas A&M)