Texas fracking may use less of state's water than other energy sources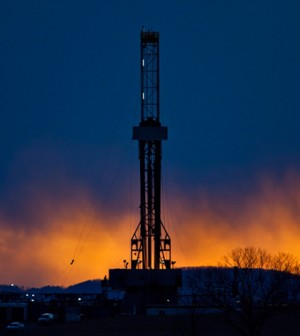 Image: Hydraulic fracturing drill rig in Pennsylvania (Credit: Environmental Protection Agency)
A study from the University of Texas at Austin estimates that Texas' natural gas boom is using less of its water resources than are needed to generate electricity from coal, according to a release from the university.
For every gallon of water used to release natural gas through hydraulic fracturing, study authors say Texas saves 33 gallons of water that would be used to produce the same amount of energy through coal.
Saving water is important for Texas, which has grappled with drought throughout its history. Full study results are published in the journal Environmental Research Letters.
Image: Hydraulic fracturing drill rig in Pennsylvania (Credit: Environmental Protection Agency)