Benefits of Ultrasonic Wind Sensors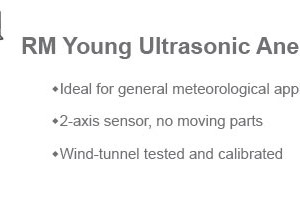 Ultrasonic anemometers require less maintenance, respond better to rapid wind gusts
Being able to measure wind speed and direction accurately from reliable equipment is more important than ever in today's competitive North American wind industry. New high-tech ultrasonic instruments used to measure wind speed and direction are more common as traditional mechanical sensors are found unreliable in some cases. Following in the footsteps of the National Weather Service, a new generation of wind industry forecasters and production engineers are viewing ultrasonic technologies as a real option.
A Comparison
Mechanical sensors use moving parts — "cups" for speed and a "vane" for vectoral change physically move with changes in the wind and give accurate speed and direction readings.
An ultrasonic anemometer operates without moving parts. On a typical wind anemometer, a transducer sends a pulse of ultrasonic sound from the "North" facing side of the sensor. A microprocessor measures the time it takes to travel to the "South" transducer. Wind speed is calculated from the time it takes the ultrasound to travel to the opposite transducer. Measurement times are affected by the wind speed and direction blowing along the line between the transducers. Without moving parts, measurement is immediate and precise.
When averaged over time, ultrasonic and mechanical measurement accuracies are comparable. Mechanical sensors, however, will not always reflect turbulence and gusts due to the physical limitations of its moving parts.
Observed differences occur in measured wind speed because of the time it takes a mechanical sensor to physically start up or register a change in wind direction. For example, if a storm blows through and the wind suddenly changes direction, the sensor must slow, stop, and restart with the change in wind direction. It will take several seconds to register and report the change.
An ultrasonic sensor, however, will immediately measure a change in wind direction or a high gust. This is what spurred the National Weather Service to update its 883 Automated Surface Observation Systems from mechanical to ultrasonic sensors. ASOS systems serve as the nation's primary surface weather observation network. The NWS conducted the weather sensor upgrades from 2000 to 2005, following a new Federal Aviation Administration requirement that all sensors must be able to measure variable gusts at three-second intervals. Mechanical sensors can commonly only measure wind speed changes of five-second gusts.
Reliability was another stated reason the NWS made the switch.
"Freezing was always a problem. When the sensors froze, they became inoperable or inaccurate. This is a huge problem when directing aviation," said Al Wissman, acting Operations Division Director of the NWS. Although ultrasonic sensors are often heated, the ultrasonic pulse is often sufficient to prevent the formation of ice.
Until recently, ultrasonic sensors were the second choice for wind profilers. This is partially due to the perceived high cost and low concern for long lifecycles in the profiling and assessment market. With no moving parts, ultrasonic sensors cost less to maintain and have longer life cycles than traditional cup and vane sensors. Sonic sensors are also ice resistant. In a recent test, some were proven to function in extreme freezing rain and high winds as per MIL standard 810F, the U.S. military standard for ice resistance. New ultrasonic anemometers with intelligent interfaces deliver added values, such as electronic compasses and barometric pressure sensors. Learn more at www.fondriest.com/vendor/lufft.htm.
Content courtesy of Ann Pattison / Lufft USA.